lyntek
Just your garden-variety fanart recs post. I think I was doomed as soon as I stumbled across luulala's gallery. And Gobeur's. Title + art excerpt + notes follow.
Malik, Altair
by luulala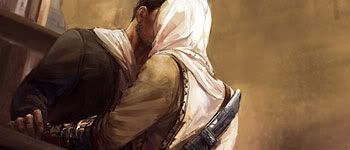 ~ I rarely have one favorite fanart in an entire fandom, but this one would be it for AC.
Ezio and Altair
by luulala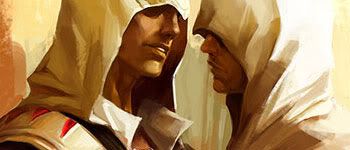 ~ more from the same artist, cross-generation slash ftw~
Look Ezio, isn't it amazing?
by Gobeur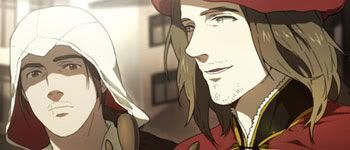 ~ I had no idea that the "Leo" in this fanart was Leonardo da Vinci. Or that I'd fall so hard for the char when I played AC2. :( sorry, dude.
Untitled
by Gobeur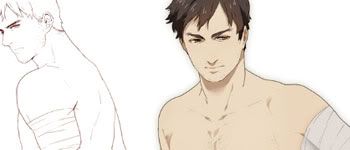 ~ Malik's the first amputee character I've ever wibbled over. I find this weird...I thought there'd be more. Mukuro's awesome, but I didn't like her that much.
Accessing the Animus DS
by Gobeur
~ Gobeur's sense of humor. XD ♥
Just a Kiss
by Ayleid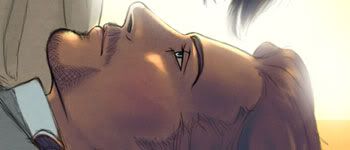 ~ I love this Leonardo. Just the right amount of softness. ♥
Untitled
by Yousui (? hope I read that right)
~ Beautiful Altair/Malik fanart. Admittedly saw this after I got into AC, but it's too pretty not to put in here.
found you
by doubleleaf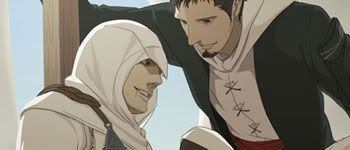 ~ Doubleleaf is probably the most prolific fanartist in the AC fandom (which is awesome, because she draws so well). This is the AC artwork I love most in her gallery.
I wanted to include fanart involving Altair's water solubility (because one doesn't really get into this fandom without making fun of the master assassin's inability to swim), but I can't find one that I adore enough. :( Oh, well.
Also, I just figured out why Altair strikes me as funny most of the time. That damned cowl. The way it hides his eyes isn't the same as when it hides Ezio's...it's not menacing or anything. Kind of reminds me of this guy: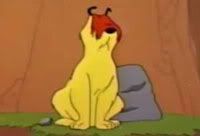 And it definitely doesn't help that he seems to have a perpetual question mark over his head throughout AC1. Or does
stupid shit
that has Malik wanting to tear out his other arm and beat him senseless with it.
There's also something to be said about projecting a player's thoughts into the char. XD

summerbreeze21
: I SPENT LIKE

summerbreeze21
: A GOOD 10 MINS

summerbreeze21
: RUNNING AROUND THIS ONE AREA

summerbreeze21
: IN FRONT OF THE ACRE GATE

lyntek
: WHY

summerbreeze21
: AFTER I SAVED A CITIZEN

summerbreeze21
: AND THE GUARDS WERE CHASING ME

summerbreeze21
: AND THE STATUS WAS REDREDREDRED

summerbreeze21
: AND THERE WERE SO MANY

summerbreeze21
: I THOUGHT RUNNING WOULD BE A BETTER IDEA

summerbreeze21
: BUT THEY WOULDN'T GIVE UP OMG SO AFTER 10 MINS I JUST KILLED THEM ALL

summerbreeze21
: D: